Pumpkin Bread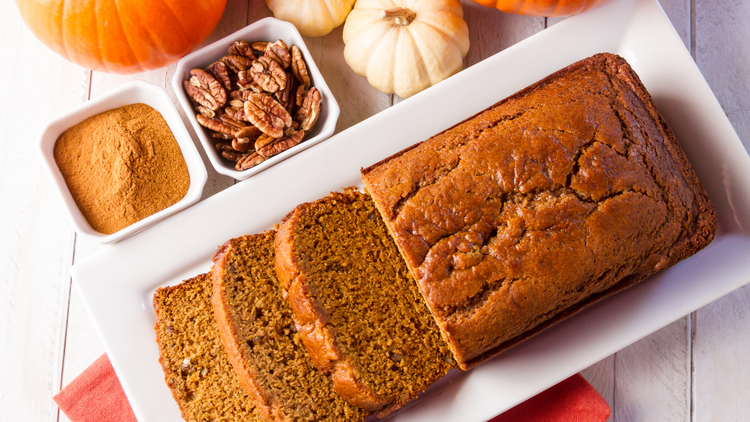 Ingredients:
1 ¼ cups gluten-free flour mix (Bob's Red Mill 1 to 1 mix)
½ cup toasted 1000 Springs Mill quinoa flour*
½ teaspoon salt
1 ½ teaspoons baking soda
½ teaspoon baking powder
¼ teaspoon allspice*
½ teaspoon ground ginger*
1 teaspoon cinnamon*
½ cup brown sugar
¾ cup granulated sugar
½ cup vegetable oil
2 eggs
1 cup mashed, cooked pumpkin (not pie filling)
1/3 cup water
Instructions:
Preheat oven to 350o .
Whisk together flours, salt, baking soda, baking powder, allspice, ginger and cinnamon. to thoroughly combine.
In large mixing bowl combine vegetable oil and sugars.
Blend in eggs, pumpkin and water; beat well.
Add dry ingredients to creamed mixture.
Blend well. Grease a 9"x5" loaf pan or three 7 ½" x 3 ½" loaf pans.
Divide batter evenly between pans. Bake for 50-60 minutes for large pan or 40 – 45 minutes for small pans, until bread tests done.
Cool for 10 minutes; remove from pans and cool completely.
*Substitute 2-2 ½ teaspoons pumpkin pie spice for individual spices.
**Toast on baking sheet at 400o for 10 minutes, stirring once. Cool.