Quinoa Flour Pumpkin Cookies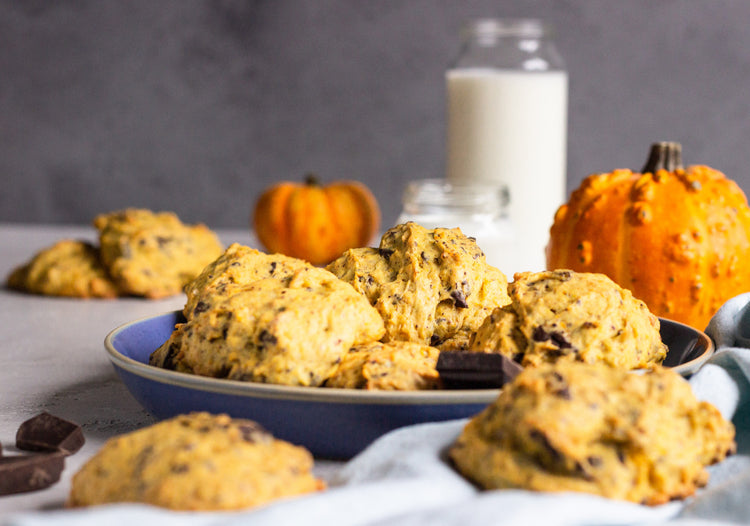 Ingredients:
1 ¾ cups gluten-free flour blend (Bob's Red Mill 1 to 1 mix)
½ cup toasted** 1000 Springs Mill quinoa flour
1 teaspoon baking soda
1 teaspoon baking powder
1/2 teaspoon salt
1 teaspoon pumpkin pie spice*
½ cup firmly packed brown sugar
½ cup granulated sugar
1/2 cup butter, softened
1/2 cup mashed cooked pumpkin
1 egg
1 teaspoon gluten-free vanilla
1 cup white or semi-sweet chocolate chips (optional)
Instructions:
Whisk together flour blend, quinoa flour, baking soda, pumpkin pie spice, baking powder, baking soda and salt in bowl.
Combine sugars and butter in large bowl; beat at medium speed until creamy. Add pumpkin, egg and vanilla; beat until well mixed. Beat in flour mixture at low speed until well mixed. Stir in chips, if using. Chill for at least 1 hour or longer.
Preheat oven to 350oDrop batter by rounded teaspoons 2" apart onto parchment paper covered cookie sheets. Bake 8-10 minutes or until set and lightly browned around edges. Cool 2 minutes on cookie sheets; remove to cooling rack. Cool completely.
*Alternately use:
¼ teaspoon cloves
½ teaspoon ground ginger
1 teaspoon cinnamon
**Toast on baking sheet at 400o for 10 minutes, stirring once. Cool.