Aunt Amanda's Wheat Berry Salad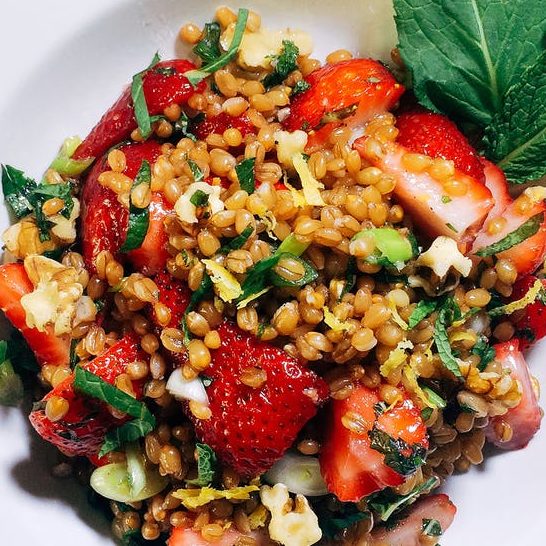 Ingredients
Dressing
¾ cup giant strawberries (tops removed)
¼ giant blueberries
2 tablespoons raw organic honey
¼ cup apple cider vinegar
1 teaspoon salt
¼ pepper
3 large mint leaves
5 large basil leaves
Salad
1 cup dried wheat berries
1 teaspoon olive oil
1 cup baby spinach
1 cup giant strawberries (tops removed)
1 cup giant blueberries
½ roasted pecans
¼ cup fresh basil leaves (roughly chopped)
1 ounce crumbled goat cheese
Salt & Pepper to taste
Instructions
Dressing:
Place all ingredients in blender. Blend until very smooth. Store in refrigerator.
Salad:
Cook wheat berries according to bag or instapot directions on 1000 Springs Mill website
Large bowl, toss together wheat berries, baby spinach, strawberries, blueberries, pecans, and basil. Add a few tablespoons of dressing and toss to combine. Season to taste with salt and pepper. Top salad with crumbled goat cheese and drizzle with additional dressing, to taste.