Sun Valley Pinto Beans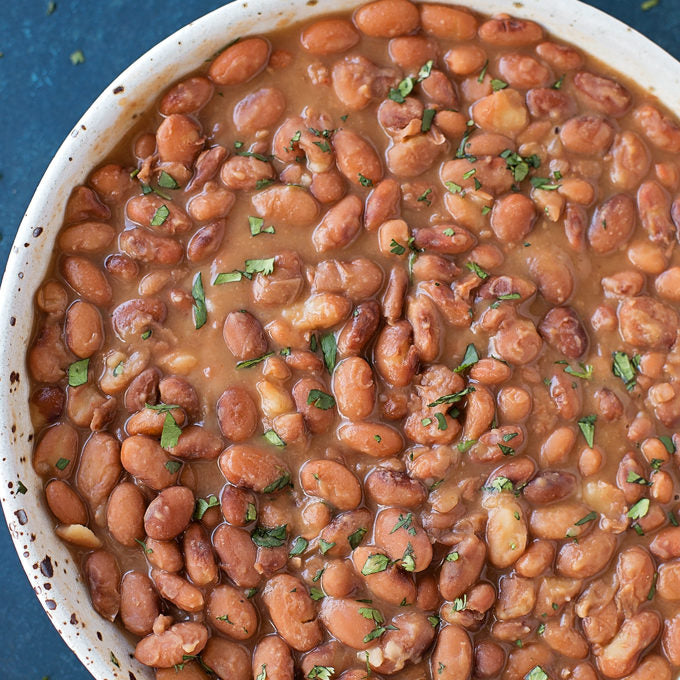 Ingredients
4 cups of 1000 Springs Mill Non-GMO Pinto Beans
12 cups water
4 teaspoons of salt
1 large peeled onion, whole
1 large bay leaf
1 garlic clove, thin sliced
1 ½ lbs grass fed ground beef
2 tablespoons coconut oil
1 cup beef stock
3 tablespoons chili powder
1 ½ teaspoons cumin
Salt & Pepper to taste
Instructions
Soak beans in measured amount of water. To beans and soaking water in heavy kettle, add salt, onion, bay leaf, and 2 tablespoons butter or avocado oil to keep down foaming. Bring to boiling point rapidly; reduce heat to simmer. Cover pot tightly. Simmer about 2 hours or until not quite tender. Life out and discard onion and bay leaf.
Brown meat quickly in coconut oil, breaking into small chunks. Add liquid to frying pan; heat to boiling point to bring up the browning bits and drippings. Add to beans. Measure into small dish 3 tablespoons of chili powder and the cumin. Mix to smooth paste using some of the liquid from the bean pot. Bring to boiling point; reduce heat to simmer. Cover tightly and slow-cook for 1 to 1 ½ hours, tasting in the meantime to see if more slat of chili powder is needed.
Serve with crisp crackers if desired.