Sesame Honey Popcorn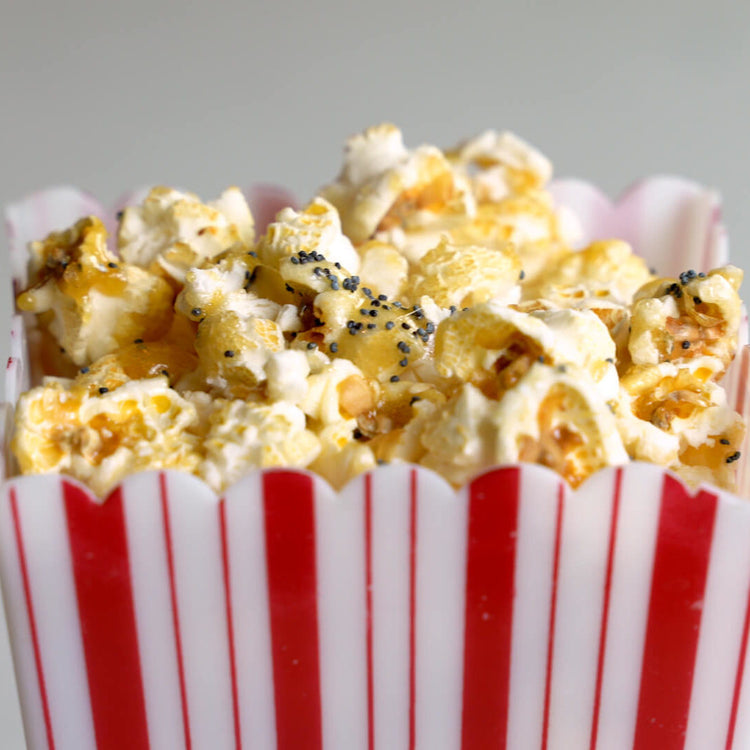 Ingredients
10 cups of plain non-GMO popped corn (sift to remove loose hulls)
1 cup of sugar
1/4 cup of organic honey
2 Tbsp water
a pinch of kosher salt
1 Tbsp butter (unsalted — if using salted, go light on the kosher salt!)
1/2 tsp toasted sesame oil
1/4 tsp baking soda
1/2 cup toasted black and white sesame seeds (or chia seeds)
Non-stick cooking spray
Instructions
Set aside the popped corn in a large bowl. Lightly spray a baking sheet with non-stick spray.
In a small saucepan, combine the sugar, honey, salt, and water. Bring to a boil, then reduce heat to medium high and stir constantly until the sugar has dissolved and the mixture reaches a deep amber color (about 5 minutes).
Remove the mixture from heat and stir in the butter and sesame oil, stirring until the butter has melted.
Get ready to work fast! Add the baking soda to the sugar mix, and the mixture will start to bubble up.
Drizzle your bubbly caramel mix over the popcorn, and stir or toss to coat. Be careful! The caramel mixture will still be very hot, the safest way to coat the popcorn will be to stir the popcorn until it's evenly covered.
Spread the popcorn out on a baking sheet to cool, sprinkle sesame/chia seeds and salt (to your taste) over the top.
Once it has cooled, break into pieces, serve and enjoy!