Minestrone Soup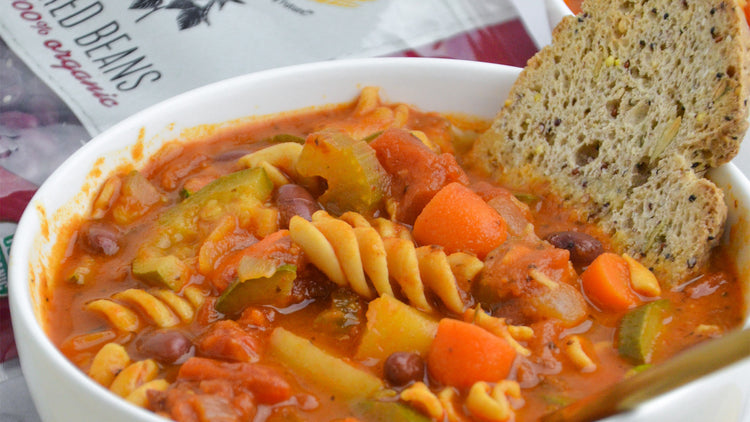 Ingredients
2 tbsp olive oil
1 large onion
4 cloves garlic
1 cup carrots
2 stalks celery
1 1/2 cups chopped potato
1 tsp oregano
1/2 tsp rosemary
1 tsp basil
1 tsp thyme
1 tsp smoked paprika
2 zucchinis
1 28 oz can of diced tomatoes
1/4 cup tomato paste
4 cups of vegetable broth
2 cups water
1 1/2 cups of cooked kidney beans about 1 can
1 cup pasta
1 tsp lemon juice
salt and pepper to taste
Instructions
Chop up the onion and mince the garlic.
To a pan over medium heat, add the olive oil, onion, and garlic.
Stir and cook for 2-3 minutes.
Add in the chopped carrots, celery, and potatoes.
Also add the oregano, rosemary, basil, thyme, and smoked paprika.
Stir well, cover with the lid, and cook for ten minutes.
Then add the zucchini, can of diced tomatoes, tomato paste, vegetable broth, and water. Cover with the lid and cook for 25-30 minutes over high heat.
Then add in the pasta and beans and cook for another 15-20 minutes.
Before turning off the heat, remove a few carrots and potatoes, and make sure that they are fully cooked by poking a fork through them. If the fork easily sinks into the vegetables, they are ready. If not, cook for a few more minutes until they are. Finally, remove the soup from the heat.
Add in the lemon juice and salt and pepper to taste. Cool off and enjoy!
@veggieworldrecipes • https://www.instagram.com/veggieworldrecipes/