Harvest Popcorn Balls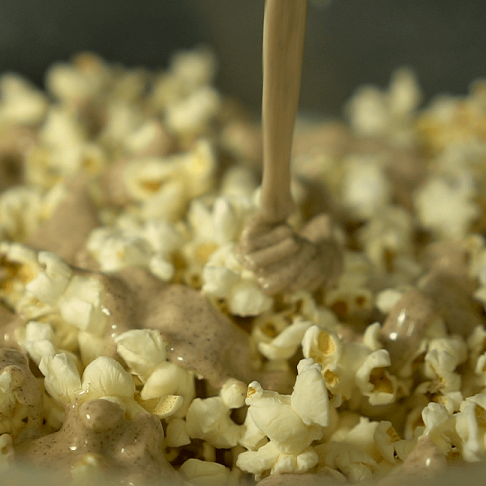 Ingredients
Sauce:
5 tbsp. butter
1 package of mini marshmallows (see note¹)
2 tbsp. pumpkin pie spice (see note¹)
1/2 tsp. vanilla extract
Popcorn Balls:
Approx. 8 cups of non-GMO popped corn
1/2 cup of dried cranberries
1/2 cup of roasted pumpkin seeds
Instructions
Making the sauce:
Melt together butter and mini marshmallows over low heat, stirring constantly.
Remove the mixture from heat and stir in vanilla extract and pumpkin pie spice. (If using seasonal flavored marshmallows, skip the vanilla and spice!)
Making the popcorn balls:
Put all popped corn into a large bowl.
Pour melted marshmallow mixture over the top.
Add in the cranberries and pumpkin seeds (or whatever toppings you want to use).
Lightly butter your hands and GENTLY toss to combine. MAKE SURE that the marshmallow mixture is at a safe and handleable temperature.
Try to evenly distribute the toppings and sauce throughout the mixture.
Form the mixture into loose balls and store in an airtight container, or wrap in plastic wrap.
Notes
¹ Seasonal ginger flavored marshmallows can be substituted in place of plain marshmallows and spice